MSRE Class of 2019 Graduation Reception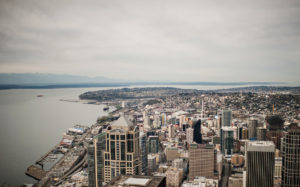 March 21, 2019
6pm-8pm
Columbia Tower Club
701 Fifth Avenue, 75th Floor
Please join the Runstad Department of Real Estate and the Advisory Board as we celebrate the MSRE Class of 2019. Light refreshments will be served, along with spectacular views from the 75th floor of the Columbia Tower. Directions and dress code information can be found here.
Parking
The main entrance to the Columbia Center is located at Fifth Avenue and Columbia. If you have parked in the Columbia Center Garage, take garage elevators to the Fifth Avenue Lobby. The secondary entrance is located on Fourth Avenue between Cherry and Columbia.
This entrance is open Monday-Friday 6:30 a.m. – 7 p.m. Weekend or after-hours access is only available at the Fifth Avenue entrance.
From this entrance please take the escalators up: this is three sets. To the fifth Avenue lobby area. There are also elevators located on each floor located at the North and South ends of the buildings. To your right and left as you entered the 4th avenue entrances, please go to the Lobby Level from these elevators.
Upon entering the 5th lobby you will be greeted in the evenings or on weekends by a Columbia Tower Club Receptionist or a member of the Columbia Center Security Staff. Prior to 6:15 p.m. however you can follow the signs to the floors 37- 76 elevators just off the 5th avenue lobby, near the security desk.
You will ascend the main elevator to the 40th Floor (Sky Lobby), and then change elevators and continue to the 75th Floor. This is a right hand turn towards Starbucks and then a left hand turn. The elevators to floor 75 are on the left and clearly marked.
The Columbia Tower Club reception desk is located on the 75th Floor. Club Receptionists will direct you to your event location.
Please take your parking ticket with you when you exit your car. To pay for parking you may validate as you exit on the first floor, 5th avenue entrance. The parking kiosk is located near the security desk.
RSVP to md63@uw.edu