Overview
Real Estate is an interdisciplinary field requiring the collaboration of professionals with different backgrounds spanning from planning, architecture to engineering, business, law, public policy, sciences and health to name a few. The two-quarter Graduate Certificate in Real Estate (GCRE) offers non-real estate UW graduate students an opportunity to learn the fundamental concepts and tools critical in the workings of real estate markets while helping them understand how their own fields of study can be useful in real estate.
Who should apply?
UW graduate students in: architecture, planning, construction management, engineering, business, law, public policy, sciences, health, etc. Students are not required to be enrolled in a graduate program to apply. Students cannot take courses before applying for the certificate, with the only exception being RE 510 Introduction to Real Estate, which students are allowed to take in advance of their application.
Purpose
The purpose of the GCRE is to:
Engage non-real estate students in exploring the interdisciplinary nature of real estate;
Facilitate the understanding of fundamental concepts and cross-discipline collaboration; and
Expand the employability of individuals of various fields contributing to real estate.
Learning Objectives
The learning objectives are to:
Explore the various real estate types (e.g. residential, office, retail, industrial, etc.), key industry participants, policies and contributing fields
Highlight the interplay and effect of socioeconomic conditions on real estate markets
Explore the financial structures and instruments utilized among different types of real estate deals
Identify the steps involved and key decisions in the development process
Engage in interdisciplinary simulations similar to professional teams
Eligibility
Graduate students currently enrolled in a degree program at the University of Washington (UW) and visiting exchange students.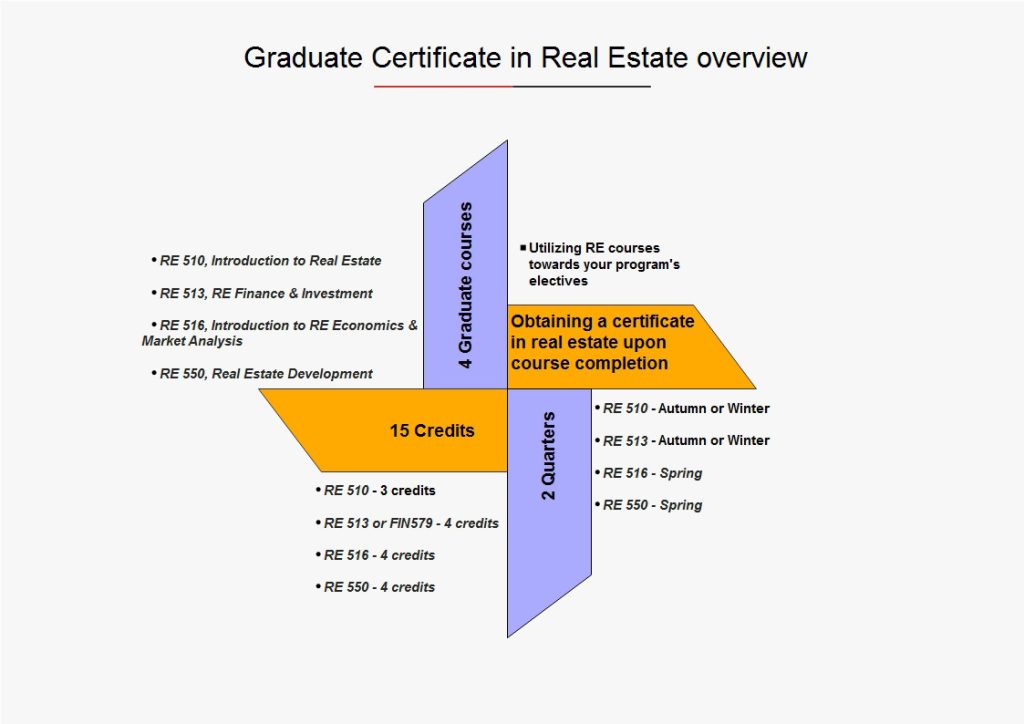 Completion Requirements
To successfully complete the certificate students are required to maintain a:
Minimum cumulative GPA 3.0
Minimum grade per course 2.7
Application Deadlines
Applications are accepted twice a year with the following deadlines:
Autumn – December 15th
Spring – May 15th
Program Flyer