Overview
Quality, affordable, and well-connected housing is an essential component of strong and healthy communities. Housing markets are constantly evolving and there is an increasing collaboration among public, private and nonprofit actors in addressing various housing issues. The Graduate Certificate in Housing Studies (GCHS) offers graduate students an opportunity to learn the fundamental concepts and tools essential to understanding housing production and consumption at a regional, national and global level.
Who should apply?
UW graduate students interested in housing, especially those majoring in: architecture, planning, construction management, real estate, public policy, public health, sociology, geography, business, and law.
Students are required to apply and be admitted before taking more than two of the required courses to receive the certificate.
Purpose
The purpose of the GCHS is to:
Engage students in exploring the functioning of housing markets and how housing influences economic and geographic mobility, health, and educational attainment
Provide cross-disciplinary perspectives on housing topics including finance, markets, policy, data, and analysis
Prepare students for careers in housing in the public, private, and non-profit domains
Learning Objectives
Certificate students will learn to:
Understand the private, public, and non-profit actors involved in the production of housing
Identify local, state, and federal housing policies that influence housing production and consumption
Explore the financial structures and instruments used to finance housing development and to provide individual access to mortgages
Present interdisciplinary evidence on how housing can affect life outcomes
Learn how to use housing data in program and policy analysis
Engage in proposing solutions to real-world housing challenges through community case studies
Eligibility
Graduate students currently enrolled in a degree program at the University of Washington (UW), UW/Graduate Non-Matriculated students and visiting exchange students.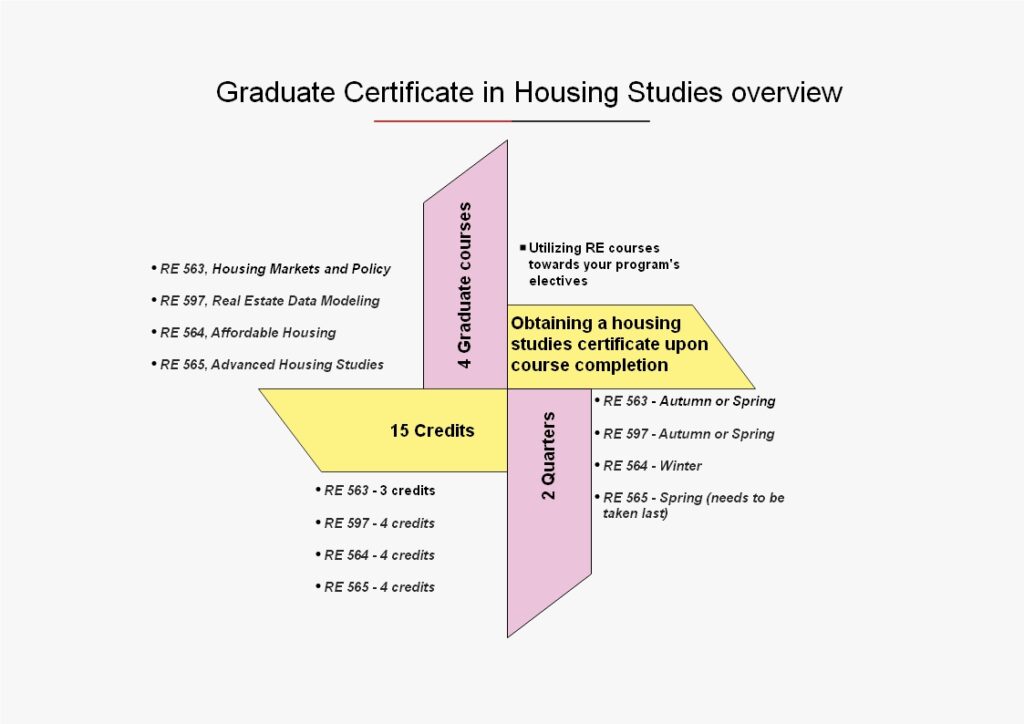 Completion Requirements
To successfully complete the certificate students are required to maintain a:
Minimum cumulative GPA 3.0
Minimum grade per course 2.7
Application Deadlines
Applications are accepted twice a year with the following deadlines:
Autumn – May 15th
Winter – December 15th
For Admissions or any other questions please contact: regradcert@uw.edu
Sign up here if you want to be added to the Housing Studies listserv to receive information about the Graduate Certificate in Housing Studies and career opportunities in housing. Use your UW email address and confirm your request by accepting the link on the confirmation email.