"The Eiffel Tower was financed by Gustave Eiffel, the Empire State by John Jakob Rasob and Pierre Dupont, and the Burj Khalifa, the tallest skyscraper in the world, was financed by Sheik Mohammed Bin Rashid Al Maktoum…the first skyscraper in Colombia is being financed by thousands of Colombians."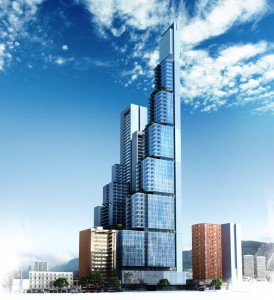 BD Bacata will be the first skyscraper in Colombia in 35 years, and the largest in the country, at 66 stories. Even more remarkable, it has become the largest crowdfunded real estate project in the world. Prodigy Network, the Bogota- and New York City-based real estate company developing the project, sought to provide "small investors the opportunity to buy participations in large-scale real estate."
The project is located in the el Centro district of Colombia's capitol city, Bogota. El Centro was once the city's thriving downtown area, but over the past several decades, the area saw increased levels of crime and poverty, and development shifted to the Financial District, which is located several miles north of el Centro (think: Wilshire Boulevard compared to Downtown LA) Despite cheaper land prices, and a city "Regeneration Plan" for downtown, many standard, institutional-scale investors are still leery of investing in el Centro . Conversely, Prodigy Network saw an opportunity to use crowdfunding as a tool for securing capital in a location that locals believe to be a needed investment in their community.
When complete, BD Bacata will be a truly mixed-use building, combining retail, office, hotel and for-sale residential.  Prodigy Network felt it was especially important to have diversified uses (and exits) in a project with this level of complexity. The 1.2 million square foot project is being built in phases by use type. Phase one includes nearly 50,000 square feet of retail, anticipated to attract 12,000 visitors per day. Phase two will be the construction of the shorter tower with 396 for sale apartments. The final phase is the construction of the tallest tower, which includes 117 offices and a 364-room hotel. Despite initial construction issues, Prodigy Network expects a 2015 delivery.
The residential portion is the only aspect of the project that is not being crowdfunded and is expected to cover 45% of the project costs.
Even with such a unique product, neighborhood and financing strategy, Prodigy Network was able to meet their fundraising goals, securing the first $80 million dollars within six months of entitlements. To date, over 3,800 Colombians have bought ownership shares, bringing the total crowdfunded investment to over $200 million dollars.
FINANCIALS
In order to fund the approximately $240 million dollar project, Prodigy Network targeted the "informal market" in Colombia. This market segment consists of individuals, as opposed to institutions or even high net worth family offices, who do not typically have access to institutional grade investment, but who understand the local conditions and want an opportunity to impact growth in their city. To manage such a large number of investors, Prodigy is harnessing CRM technology and a legal system in Colombia that has been used to the concept of crowdsourcing for some time.  Without getting into the nuanced comparison of securities laws between the two countries, the U.S. is effectively beginning to allow the type of investments that have been legal in Colombia for some time. In addition, Prodigy honed its marketing platform while doing business selling condominiums in places like Miami and New York, and is now applying lessons learned to creating a massive marketing effort to source investors in BD Bacata.
In the Fall, The Runstad Fellows will be hosting an facilitated discussion about the BD Bacata project, and the implications for real estate in Seattle and the US, more generally. Some of the interesting topics that may be explored include:
How will changes in regulations in the US affect crowd-sourcing?
Would use of a Columbia-style "fiduciary model" better support crowd-sourcing in the US?
To what extent can socially-valuable investments be competitively sourced via crown funding?
How much less are investors willing to receive for the "right" projects and can that resulting cost of capital be appealing for a developer?
How do you put in the place an effective marketing program for a crowd-sourced project?
Special thanks to Rodrigo Nino and Magdalena Sartori for their insight on this project.
Louisa Galassini, 2014 Runstad Fellow