"It's not about infrastructure, architecture or engineering, it's about a political project inclusive of citizens". Jorge Perez, current Director of Planning, Medellín
Inspiring images of libraries, escalators and metro-cables in Medellín have populated the pages of worldwide media in recent years. But the real story of triumph does not come from any of these photogenic projects, but rather from the construction of invisible yet intentional ties and bridges: communities that care, support and ultimately, love and protect those investments.
In areas with a delicate social fabric, standard police is not successful. Similar to Sao Paulo's favelas that have their own structures of control, Medellin's gangs used to patrol territories where the state had little or no presence. So investing in mobility infrastructure alone only evidenced and exacerbated these traits. Soon after the escalators were built for example, gang members would charge a fee in order to leave users alone.  By finding, training, connecting and supporting community leaders -and ultimately branding them as a state presence- Medellín has succeeded in leveraging its investments to provide full value to its people, while lowering maintenance costs and creating opportunities in the center and the periphery, as well as a sense of pride and inclusiveness that seemed impossible some years ago.
Another example comes from the metro system. In the very first days of operation, many of the cars were vandalized. The city quickly moved to repair them, fully aware that nothing invites more chaos than chaos. But the long term solution came through their youth. Free education and basic nutrition (0-5 included) is the city's strategy for equity in the long term, so they made the most out of their investment. Similar to how Malmo, Sweden taught "Separation at Source" to new communities, Medellin designed communication campaigns aimed at kids to educate their parents. Medellin succeeded to create pride and belonging to all "paisas" in every sector: Medellín is the only city with a Metro system in Colombia.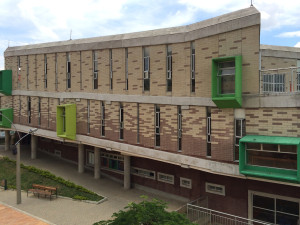 In a similar way than Bogota's trinity of aligned Mayors Castro, Mockus and Peñalosa  invested in social inclusion and mobility projects to bring "dignity" and "decency" to the less favored (and majority) of inhabitants, Medellin's Mayors Perez, Fajardo, Salazar and Gaviria also committed heavily and continuously in those communities under a common vision that prevailed across political administrations. And not only in mobility, but in utilities and services, formalizing extralegal settlements along the way to most of the "developed" world's dismay.
Undocumented settlements are the defining factor of developing nations. Because land titles are absent, cities cannot invest in infrastructure and plan to recover it through taxes, becoming unable to leverage the borrowing power of the crowd as collateral for loans from standard multilateral organizations.  Because of this, each territory must deal with their problems in unique ways, but rarely succeed in creating capital for their new citizens along the effort.
Curitiba for example, implemented inspiring programs like "Garbage that is not garbage" to deal with waste collection in extralegal areas that would otherwise create a health problem to the city at large. But Medellin used the muscle of its Public Utilities (the second largest enterprise in the country) to solve this problem in a more permanent way. New settlers were served with electricity, clean water and waste collection –and now mobility- on the general public's tab. They were served with a utility bill of "Estrato Uno", the lowest possible price bracket in the city -out of six – and almost fully subsidized, even before they procured a land title. Areas of this kind generally end up stealing light and water and create a public health concern, so it's better for everyone to serve them formally anyways. And those are now tax-paying citizens with default rates that any public entity would envy, enabled through pre-paid cards and other creative strategies.
But this didn't happen overnight. Property rights were not clear in about 60% of the city in the 80's, so the city started an effort to legalize and serve them, and steadily succeeded thirty years later. But undocumented settlements continued to grow fast, especially in a country hit hard by displacement due to rural violence (read guerrillas, paramilitaries and land pressures derived from unlimited drug demand from developed nations), among other factors. So about 20% of the land area today is still considered outside the legal framework and the effort continues. The biggest challenge is where to draw the line.
Public Private Partnerships made possible through a strong Academia, today studies how to create that invisible limit working closely with the communities that live in the border to self-patrol. An Urban Growth boundary that adapts to the realities of these settlers that often prefer landslide risks that seem minimal by comparison to the threats they are accustomed to. Medellin prides itself as an urban laboratory and a city that prefers the "do" strategy than the "talk", and that adapts quickly to the challenges that arise. Resiliency is only an afterthought, but it is tangible there.
Moravia, for example, an open air dump turned laboratory of bioengineering, lies in the outskirts of the 1900s Medellin –today's central area-. Moravia was home to communities in desperation whose sustenance came from the waste itself in the most Dantesque inferno scene imaginable. People built their homes atop a time bomb of gases and contamination. So with academic collaboration and public resources over several decades, property titles were issued only so that they could be applied as down payment for homes in other areas, first far away, then nearby in order to keep the community connected. Subsidies and donations then took care of the remainder, and social housing with no debt now exists where only garbage was, surrounded by public amenities and community centers where kids learn to play instruments under the slogan "a kid with an instrument is a kid without a gun"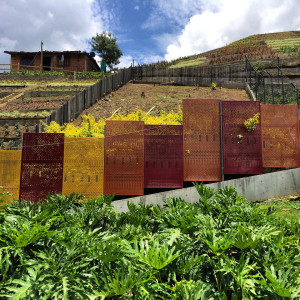 Throughout the whole city, architecture plays a fundamental role in dignifying and beautifying the areas, undoubtedly increasing value to the surroundings while transforming the neighborhoods. And to many's dismay, property taxes are not increased in order to deter gentrification. Only Havana comes to mind with such clear conscience to maintain social capital; except in Medellín citizens can sell their homes whenever they want.
Medellin's success story lies in the bond and sense of pride of an already tight community that morphed from being a shame for the country's tourism organizations to its biggest pride in less than two decades.  The biggest lesson seems to be about working united as an organism to adapt while protecting the weak, in order to secure the opportunities for the private sector to develop and the quality of life for all. Even the most pro-capitalist people in Colombia agree that this is the right step ahead: a redistribution of the wealth that lies not in the pastoral rural lands, but in cities that will increasingly house the great majority of the population. (over 75% already in Colombia's case).
The World Urban Forum recognized Medellin's success stories selecting it as a worthy host for the 2014 event; ULI recognized its capacity as the most innovative city in the world in 2013; but perhaps the most revealing world title is the one obtained last week: the WWF recognized Medellin as the most socially connected city in support of their sustainable strategies. Their hashtag was the most voted in the planet: #welovemedellin. Yes we do.
Luis F Borrero, 2014 Affiliate Fellow