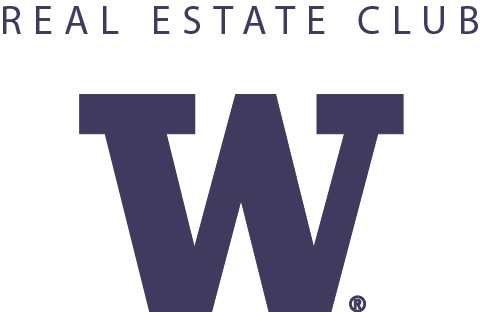 The Real Estate Club at the University of Washington provides opportunities for networking, career development, and property tours for students who have an interest in real estate. Reflecting the interdisciplinary nature of the real estate industry, our membership is comprised of students from the: College of Built Environments, Foster School of Business, Evans School of Public Affairs, the UW School of Law, and several others. The club is always open to other members of the UW community. For information on the club and pricing on memberships please visit the website at www.UWREClub.com .
The Real Estate Club explores a variety of real estate topics including: investment and finance, public/private partnerships, urban design and planning, market analysis, and sustainable/green development. Whether you are interested in real estate as a career, or simply wish to further your personal knowledge, the Real Estate Club at the University of Washington can help you understand the dynamics of the field and introduce you to the right people who can help you further explore your interests.
The club is responsible for planning several events throughout the school year. These include: "Lunch and Learn" speaker series, networking happy hours, discussion panels, and property tours.
For specific information on upcoming events please visit the "Calendar" page at http://www.uwreclub.com. In addition, if you have specific event requests or are seeking specific sponsorship opportunities please contact us via the website.
The Club offers a variety of programming throughout the school year to serve its three goals:
To enhance our career development opportunities by facilitating meetings and networking events with professionals engaged in a variety of functional areas within the real estate industry. The relationships you form at club events can help you discover your interests and strengths, launch your career, and form the network that will aid you throughout your future.
To further our educational experience by bringing industry professionals to campus as speakers, and organizing tours of diverse real estate projects throughout the Seattle area.
To have fun meeting and mingling with other graduate students who share a common interest in real estate.