RE Study Abroad – Rome, Italy
Early Fall 2020 | August 20 – September 11
5 credits
$5,200 (estimated)
Housing Markets & Policy
RE 401/563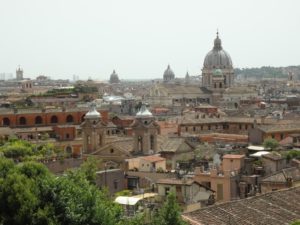 The Comparative Studies in Housing and Real Estate Markets study abroad program will be based at the University of Washington Rome Center, located in the historic Palazzo Pio in the center of Rome. The program will focus on comparing housing markets and policies in North America and Southern Europe, with an emphasis on Italy, specifically the Lazio region (Rome). Topics covered include homelessness, squatting and evictions, historical perspectives on housing policies and their impact on development, access to rental markets and homeownership, banking and finance in real estate, and the provision of social housing. The program includes lectures and activities with local housing organizations and universities, Italian language lessons, and museums and cultural experiences. All graduate and undergraduate students are welcome to participate. Students will earn 5 credits in RE 401/563: Housing Markets & Policy, which can count toward the MSRE, Graduate Certificate in Housing Studies, Real Estate Minor, or as a general elective.
+ Guest Lecturers from Local Housing Organizations
+ Site Visits to Rome Neighborhoods
+ Museums and Cultural Activities
+ Free time in the afternoons to explore Rome and on the weekends to visit other Italian cities
Visit us at the UW Study Abroad Fair!
Thursday, November 14th
10 am – 2 pm
HUB North Ballroom
Information Sessions:
December 3, 2019 | 1 pm – 1:30 pm | Gould 110
January 15, 2020 | 2 pm – 2:30 pm | Gould 227
February 5, 2020 | 11 am – 11:30 am | Gould 227