Please join us for the 2016 Runstad Center Affiliate Fellows final presentation of their research from Auckland, New Zealand.  They have explored the ways in which a city can rapidly transform the function and capacity of the public right of way to support a rich urban life at a time of unprecedented population growth.  A relevant topic indeed!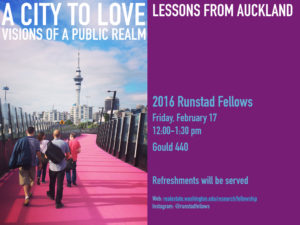 A CITY TO LOVE
VISIONS OF A PUBLIC REALM
Friday, February 17, 2017
12:00-1:30 pm
Gould Hall, room 440
3950 University Ave NE
Seattle, WA  98195
Refreshments will be served, please RSVP to bestm2@uw.edu
The Runstad Center Affiliate Fellows Program gathers thought leaders from industry, faculty, and Master of Science in Real Estate students to examine real estate issues in cities around the globe.  The 2016 Runstad Affiliate Fellows are Rick Mohler, Barbara Swift, Joe David, Giovanni Migliaccio, Genevieve Hale-Case, Amy Hartman, and Ben Broesamle.