On Thursday, March 10, The UW Real Estate Club hosted a fascinating panel, "Chinese Investment in the Puget Sound Real Estate Market".  MSRE student David Leon shares a recap of this highly attended event.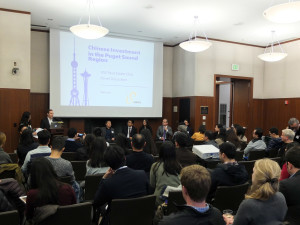 The UW Real Estate Club recently hosted an evening panel event addressing Chinese investment in the Puget Sound real estate market. The event gave students and professionals a chance to network, learn, and explore opportunities.
Panelists included:
• Kelly Chiou, VP & Deputy Head of Seattle Office, ICBC USA
• Dean Jones, Principal/Owner, Realogics Sotheby's International Realty
• Reid Rader, VP, Eastdil Secured
• Allen Zeng, CEO, AUG
After some food, drinks and networking, the panelists each gave a short presentation, followed by a group question and answer session. Dean Jones showed a brief video, and explained that the Chinese interest in the Seattle area residential real estate market has to do with more than Chinese President Xi Jinping's recent visit to the area, or the famous Chinese movie, "Finding Mr. Right". The Puget Sound presents the opportunity to invest in an American city with beautiful natural surroundings, excellent educational and healthcare institutions, a strong and well-diversified economy, and only a short flight to mainland China. In addition, although much has been made about affordability concerns locally, Washington has lower taxes than either California or British Columbia, and Seattle real estate is still much cheaper than other West-Coast cities like Vancouver, San Francisco, and Los Angeles. The panelists also noted that the U.S. EB-5 program is cheaper to buy into than most other Commonwealth countries.
Kelly Chiou discussed rules around moving money from China to the United States, and the importance of having a wrap-around set of services for incoming Chinese buyers. Reid Rader gave an overview of the recent sale of the Columbia Tower — Seattle's tallest downtown office building — to an investor group from Hong Kong. And Alan Zheng of AUG gave his perspective on why he chose to build a residential development near University Village. He made the point that whether the Chinese economy rises or falls, Seattle is a market that Chinese investors want to enter on a long-term basis.
Realogics Sotheby's International Realty produced its own feature film documentary entitled "East Meets West" to help explain the boom in foreign direct investment and immigration in the Puget Sound region.
David Leon
MSRE Candidate 2017
We want to sincerely thank all of the panelists for contributing their expertise and time. This event was generously sponsored by U Place, a new housing development planned for the University Village. Catering was graciously provided by Panda Express.