Join the UW Department of Landscape Architecture and Professional Advisory Committee, ARCADE, UW Runstad Center for Real Estate Studies, UW Department of Urban Design and Planning at the Frye Art Museum for a panel discussion on Detroit with thought leaders who are at the heart of the city's transformation and revival.  The panel includes past Runstad Affiliate Fellows Lisa Picard and Eric Becker.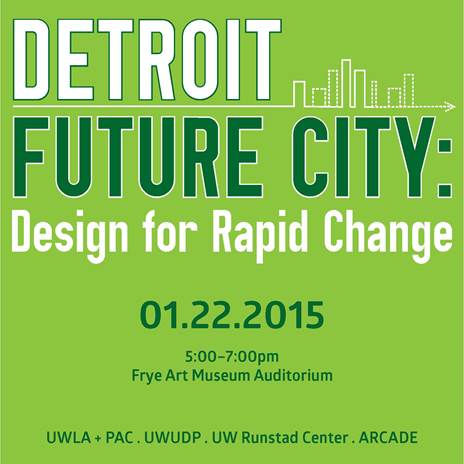 Thursday 22nd Jan 2015, 5-7 pm
at Frye Art Museum Auditorium  704 Terry Ave, Seattle, WA 98104
Please RSVP here by January 15th, 2015 as space is limited.
Detroit provides a means to study fundamental urban transformation and innovation that comes from both the top down and the grassroots level. The renewal happening in the city presents a ripe opportunity to evaluate and test civic strategies with the goal of understanding how to maximize a city's resiliency in the service of rapid positive change in the future. Indeed, the seeds of what's happening in Detroit exist in all cities, though to lesser degrees.
About the Panel
-Rainy Hamilton Jr., President and Principal-in-Charge of Architecture, Hamilton Anderson Associates; Detroit Michigan.
-Eric Becker, Founder of We Are Shouting; Fellow, University of Washington Runstad Center.
-Dan Pitera, Associate Professor of Architecture, University of Detroit Mercy; Director, Detroit Collaborative Design Center.
-Panel Moderator:  Lisa Picard, Executive Vice President, Skanska USA Commercial Development Inc.; Fellow, University of Washington Runstad Center.