The History of Institutional Real Estate Investment:  A 40-Year Perspective
Tuesday, January 20th
6-7 pm
Gould Hall, room 100
kindly rsvp:  bestm2@uw.edu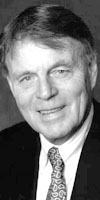 This presentation is a real opportunity to hear an industry pioneer's perspectives on the institutional real estate asset class.  Through Blake Eagle's vision and involvement over the years in a multitude of roles, he has helped shape the institutional real estate investment management industry.  To have the opportunity to hear firsthand about these events from the perspective of an industry legend should not be missed.  Blake will cover the significant events impacting the institutional real estate asset class from the 1970s to early 2000s.
Mr. Eagle has been in the institutional real estate investment industry for over forty years. From 1971-1993, he was head of real estate consulting, Frank Russell Company, a global pension fund asset strategy consultant and investment advisor. During this period, Russell clients invested in excess of $18.0 billion in commercial real estate equities. Prior to joining Frank Russell Company, Mr. Eagle was a real estate developer.
From 1994 -2001, Mr. Eagle was the Thomas G. Eastman Chairman, Center for Real Estate, Massachusetts Institute of Technology Center. The Center offers a Masters of Science in Real Estate Development degree and engages in a wide range of real estate research projects and educational programs.
From 2002 thru 2007, Mr. Eagle was CEO, National Council of Real Estate Fiduciaries (NCREIF), a real estate industry association that produces and publishes the NCREIF Property Index (NPI), the standard measure of institutional investor owned US commercial real estate investment performance. Mr. Eagle played the key leadership role in both the founding of NCREIF (1982) and in the development of the NPI.
Mr. Eagle currently serves, or has served, on the Boards of Directors of three real estate investment advisors, three publicly listed real estate investment companies, one real estate securities mutual fund and four private real estate investment funds. Mr. Eagle has served on the Advisory Boards of the Wharton Real Estate Center, University of Pennsylvania, Federal National Mortgage Association (Fannie Mae) and currently sits on the Real Estate Advisory Committee of the NY Teachers Retirement System (NYSTRS). Mr. Eagle has provided expert testimony to The Presidents Commission on Housing, the Department of Labor and the US Senate Banking Committee on US pension fund real estate investment practices.
Mr. Eagle has been honored with Lifetime Achievement awards from NCREIF, The Wharton Real Estate Center and The Homer Hoyt Advanced Studies Institute. In 1993, Mr. Eagle received the Dr. James Graaskamp Award from the Pension Real Estate Association in recognition of his contributions to the body of knowledge in the field of institutional investment in real estate.