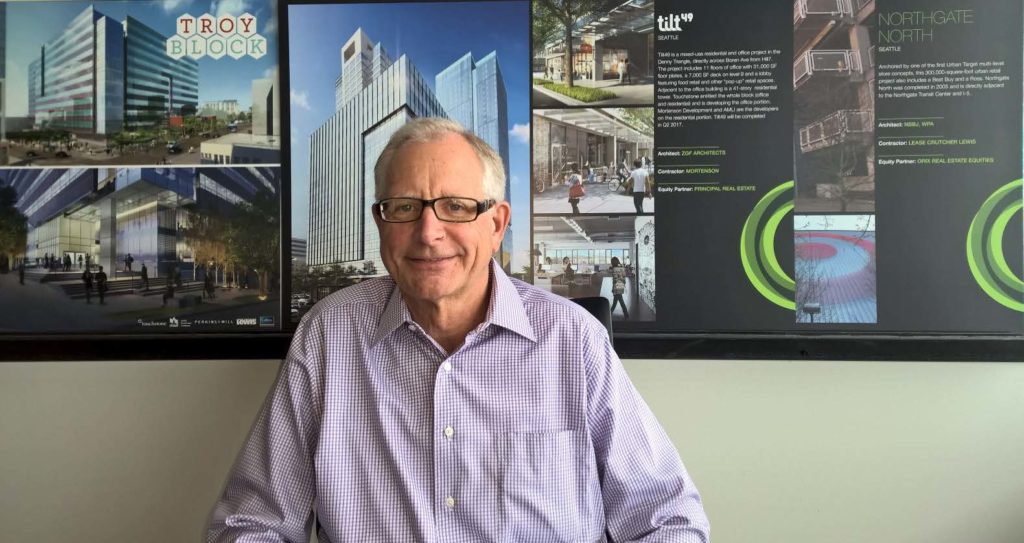 It is more than fair to say that Douglas Howe, a Runstad Advisory Board member since 2011, has a distinct proclivity and sharp acumen for Pacific Northwest commercial real estate. He is the founder of Touchstone, currently one of the region's most active developers, with approximately 2 million square feet currently under construction. Most recently, in June 2016, Touchstone opened the luxurious Thompson Hotel and Sequel Apartments, a stunning project designed by Tom Kundig of Olsen Kundig and Jensen Fey Architects. This project took an immense amount of work and collaboration, born out of Howe's venerable career.
Douglas Howe quickly discovered that his primary passions were in landmark renovation and urban office, and his priority became creating the best work environments possible. One of his projects, the Kirkland Marriott Courtyard Hotel, initially included a contract with Marriott, but following September 11th, 2001, Marriott pulled out due to economic fears. Touchstone, however, already had the franchise. "We became accidental hotel developers. But we executed it well. It was a perfect compliment to Touchstone as an office developer… There are a lot of natural synergies between office and hotel development," Howe reflects. Since the Kirkland Hotel, Touchstone has completed numerous, successful office and hotel projects, culminating in the Thompson Hotel.
"You know what I always said? If people live in it or sleep in it, we don't do it!" Howe laughs. Given that he became an "accidental hotel developer", the irony is that he is also capping his career with a well-received, high-end apartment complex attached to a boutique hotel. With its sweeping, unobstructed view of and proximity to iconic Seattle features, the Thompson Hotel and Sequel Apartments appeals to visitors and Seattleites alike. Howe's philosophy in picking sites and projects has always been very intentional, strategic and forward looking. This particular project actually began in the 1990s, when Howe began developing a relationship with the site owners, but wasn't until 2007 that he gained control of the property. From there, financing the project, establishing a design and program that was unique and appealing, and selecting the right hotel operator were all challenges that Touchstone faced. Their work has paid off, and is reflected in every distinguishing detail of the project. Touchstone worked closely with Josh Henderson, Seattle celebrity chef, to open Scout on the ground floor. Signature to most Thompson Hotels, there is a spectacular roof top deck, where Henderson has also established The Nest. Touchstone aimed to create a different, sexy and edgy space that appealed to a discerning, new age crowd, and, while they are still in the process of refining details and have only been open for one month, they are already attracting large, national corporations to utilize their event space and conference rooms. Connected to the Thompson Hotel by a clever courtyard space is Touchstone's first multi-family project, Sequel Apartments, which enjoys all the benefits of being a hotel guest including room service, housekeeping and concierge. Sequel is already 75% leased and on track for full occupancy by the end of summer 2016.
Howe's legacy lives on in the Touchstone team. As Howe began to plan his retirement, he put in motion a succession plan for Touchstone, partnering with Urban Renaissance Group and infusing Touchstone with significant capital for the next market cycle in an agreement lauded as NAIOP's 2015 Deal of the Year. "Touchstone is a great team," Howe says, "It's up to them to find the future. I have every confidence that they will be successful." Touchstone is the recent winner of the prestigious NAIOP Developer of the Year award, so it seems that Howe's instinct about his team is spot on. The advice that he aspires to impart on all Runstad students, aspiring and current developers then, rings sound. "You can do better. Pay attention to the details and make an impact on the urban environment. As a developer, you have a responsibility to leave a legacy, a well-designed building that fits within the context of the urban environment and can withstand the test of time. You can create a special place. Developers can make that happen within a budget and we try to accomplish this and stand out in every project."