What is corporate real estate ? Well first it is one of the Runstad Centers three options for specialization in the Masters of Real Estate Program. It is a unique offering not readily available from any other National Program. CoreNet is a major supporter of this academic discipline and has defined Corporate Real Estate Service as follows…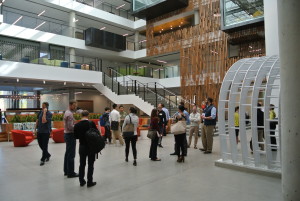 Corporate real estate is the real property used by a company for its own operational purposes. It provides corporations with a productive environment to house employees, manufacture and distribute products, and provide services to the market. Corporate real estate touches all classes of property, land and buildings such as office facilities, data centers, manufacturing facilities, logistic centers, corporate headquarters, distribution facilities, retail stores and hotels. Historically, corporate real estate professionals focused on managing the physical property for the business. They were charged with acquiring, maintaining, and disposing of real estate throughout the "lifecycle," or useful life, of any property.
Certainly, those functions still remain at the core of corporate real estate. However, the business landscape is changing and the role of corporate real estate continues to evolve. Now more than ever, corporate real estate professionals are charged with partnering with the business and adding strategic value. More corporations are now viewing real estate as a strategic asset and corporate real estate as a strategic function. As a result of that shift, a new skill set is required for today's corporate real estate executives. They are at the forefront of corporate social responsibility and sustainability initiatives and are leaders in the innovative workplace design movement aimed at improving worker productivity and wellbeing.
They also play a vital role in creating work experiences that aid in talent recruitment and retention. In competition for skilled people, organizations are vying for top talent in a highly transparent job market and becoming laser-focused on their external employment brand. Executives are embracing digital technologies to reinvent the employee experience, focusing on diversity and inclusion as a business strategy, and realizing that, without a strong learning culture, they will not succeed. Complicating the challenge further, the marketplace is in continuous flux, driven by new products and services, new technologies, and uncertain and unpredictable national and international political and economic shifts. The balance of power is shifting from the employer to the employee.
Years ago, corporations assumed people would work in any place provided; however, many realize that now they must create a "place" where people want to succeed and thrive. This notion has evolved from simply providing a desk and a chair, to a more holistic approach which addresses emotional, intellectual, physical, and virtual needs – among others. Many companies now view catered meals, onsite healthcare, attractive office spaces, modern technology, and flexible work programs as strategic business initiatives. These experiences are becoming part of a company's culture and ultimately their brand.
Today's students are tomorrow's talent. In order for organizations to attract and retain future talent, more insight is needed. Understanding what experiences contribute to a student's success can inform what companies might provide to help their employees – and their enterprises – succeed.