We continue our series of blog posts from our Runstad Center Affiliate Fellows class of 2015, who have just returned from their travels to Santiago, Chile, and Rio de Janeiro and Curitiba, Brazil.  Here, Thaisa Way introduces her fellow Fellow, filmmaker Jose Carlos Teixiera.
Two days into our trip we welcomed our film artist Jose Carlos Teixiera, whom I met at the MacDowell Colony a couple of years ago. He is creative, thoughtful, insightful, and funny – and speaks both Spanish and Portuguese – so a wonderful addition to our team. When in the middle of a planning meeting I realized I knew someone who could offer all these skills and I jumped at the opportunity. I was delighted when he agreed to join us – in the middle of his semester at Case Western.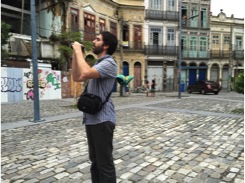 Jose joined us a couple of days after we arrived in Santiago as he had to teach earlier in the week. From the minute he arrived, we had him in a meeting with the Minister of Housing in Santiago. He rolled with the meeting, then enjoyed a beer and food and a museum of memory, a house that Pinochet used to hold and torture some of the earlier dissidents. It was a rather dramatic introduction to the trip. Since then Jose has steadfastly filmed our travels while learning the language of planners, designers, real estate folks, and developers – and doing it all with grace and humor.
It is great to have Jose with us – and I suspect we will all learn from the film that he creates – can't wait!