Career Opportunities
The Bachelor of Science Degree in Real Estate prepares students for careers in real estate finance, asset management, brokerage, urban and real estate development, and housing among many other potential professional career paths.
Students are encouraged to complete an internship or gain work experience during their time at UW, particularly during the summer between their junior and senior year. RE 480: Professional Development Seminar is a required course that allows students to refine their professional projects and prepare them to apply for internships and jobs.
The real estate major can be completed in parallel with other degrees, including in the following fields:
Architecture
Business
Communications
Community, Environment and Planning
Construction Management
Geography
Landscape Architecture
Law, Societies and Justice
Sociology
Sign up here if you want to be added to the listserv to receive information about real estate career opportunities. Use your UW email address and confirm your request by accepting the link on the confirmation email.
In addition, feel free to contact the advisors at any point to discuss your professional plans at remajor@uw.edu.
Real Estate Club
The Real Estate Club at the University of Washington provides opportunities for networking, career development, and property tours for students who have an interest in real estate. The club is open to all members of the UW community. For more information, visit the website at http://www.uwreclub.co/ and don't hesitate to get involved.
Meet Our Student Ambassador
The Real Estate major and minor has a student ambassador who will have tutoring drop-in hours to help support other students in the major with their classes. See below for additional information on bio, hours, and course assistance list.
Hanson Dai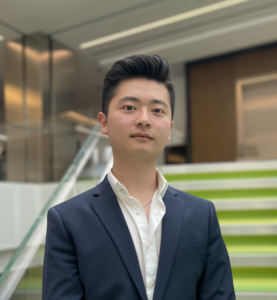 Hanson is currently a senior majoring in Real Estate, minoring in Business Administration, and a graduate of the Foster Professional Sales Program. You may have encountered him in one of the several classes he has served as a Teaching Assistant in (R E 250, R E 361, R E 363, R E 480, and MGMT 305). He has previously interned in wealth management, consulting, and banking and will be returning to Bank of America as a Global Corporate Investment Banking Analyst following his graduation in Spring 2024. Outside of his academic endeavors, Hanson enjoys travelling, going to the gym, golf, pickleball, cooking, and trying new restaurants. Hanson has also studied abroad in Ireland and Japan and encourages everyone to participate in at least one study abroad program before graduation!
2-hour time block: 
Wednesdays 4:15 PM- 5:15 PM (Zoom Link)
Please email Hanson at daihan21@uw.edu to schedule meeting times outside of 2-hour time block.
Courses:
R E 250: Introduction to Real Estate
R E 361: Property Transactions
R E 363: Real Estate Development
R E 411: Real Estate Valuation and Appraisal
R E 480: Professional Development Seminar
In Addition:
Guidance on how to apply for internships