During last Monday's ULI tour of large-scale transformation along the San Francisco waterfront, 100 attendees enjoyed a boating tour around Treasure and Yerba Buena Islands and walking tours Pier 70, Mission Rock, and the historic Naval shipyards at Hunter's Point and Candlestick Park. With San Francisco's housing affordability crisis frequently in the news and the palpable density in the city, I was completely surprised to discover the vast open industrial spaces that make up the southern bay front. Presentations from over nine speakers made the day an inspirational view into the next phase of San Francisco's development.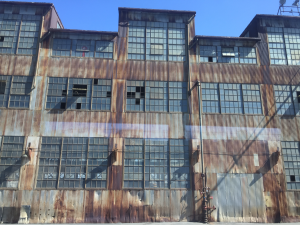 I relished the views, fresh air, and new discoveries during the boating tour, but the gem of the entire fall meeting for me was laying eyes on Building 12 at Pier 70. Forest City and Orton Development are beginning a process of transformation to capture and celebrate the historic shipbuilding site and to reactivate the southern bayfront of the city. The 60-acre site south of Mission Bay was a bustling job center through the 1940s, but it has been vacant and overlooked for decades. It has also been a barrier to public bay access since San Francisco's founding.
Forest City is proposing a mixed-use development including rehabilitation of 250,000 square feet of historic buildings for commercial, residential, retail, and light industrial uses. Of particular note, Forest City is committed to supporting the industrial history of the site and neighboring Dogpatch facilities, so the project includes a focus on RALI uses: retail, arts, and light industrial. Policies are proposed to keep rents at their current level to ensure a mix of tenant types within buildings and across the property. It also opens the site to public access and provides acres of new parkland.
The project location and previous uses have required an intense level of project review by government regulators, but there have already been great successes for this project. Most notably, a San Francisco regulation required citizen approval for an extension of the height limit on the property. The ballot measure was approved with nearly 60% support, making it one of the most widely supported ballot measures in history and suggesting that San Francisco residents are ready to rediscover the site.
While the beauty of the city's downtown is undeniable, the scale and history of the Pier 70 buildings provide a visceral connection to San Francisco's past. This project is a reminder of the pioneering spirit that San Franciscans are known for and a testament to the opportunities that are possible through innovation. With Seattle's own large, industrial waterfront that is largely inaccessible to city residents, this project encouraged me to think more deeply about our waterfront future. What do you think? How can Seattlites engage with our waterfront industrial past?
-Lori Shannon, MUP/MSRE Candidate 2017