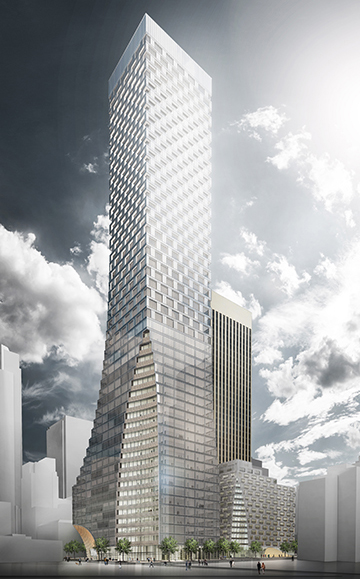 Last week, the University of Washington Board of Regents approved the selection of Wright Runstad & Company to redevelop Rainier Square, a 140,000 square foot retail property that is part of the University's Metropolitan Tract in downtown Seattle. Wright Runstad & Company was selected through a competitive process managed by the University of Washington.
The project will total 1.15 million square feet in the taller tower and a separate, connected 15-story hotel. The taller building will include approximately 750,000 square feet of office, 240 apartments and 30,000 square feet of retail. The luxury hotel will have 198 rooms, and the project would have a 1,200-stall parking garage. The project schedule calls for design and entitlement to occur in 2015-16, with early construction targeted for 2017 and completion three years later.  A detailed development portfolio is available at the Wright Runstad website.
The new skyscraper will be the second-tallest building on the Seattle skyline.  We at the Runstad Center extend a hearty congratulations to our friends at Wright Runstad, especially Jon Runstad and Greg Johnson!