Five students from the College of Built Environments, including two of our own MSRE students, have formed a team to compete in the 14th Annual Urban Land Institute Hines Competition.  ULI has announced that this year's site will be an area in Atlanta's Midtown neighborhood.  The Hines Competition asks teams to create a design and development proposal for parts of an existing, large-scale site.
Genevieve Hale-Case (MUP/MSRE), Tak Stewart (MSRE), Domenico Martinucci (MUP), Matthew Donoghue (MUP), and Stevie Koepp (MArch/MLA) will be competing against schools from across the country for the grand prize of  $50,000.  The winning team will be chosen in April.  Go CBE!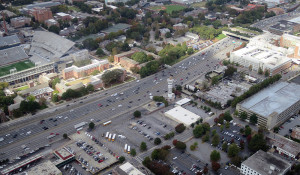 More information on the site selection and competition can be found here.