We continue our series of blog posts from our Runstad Center Affiliate Fellows class of 2015, who recently traveled to Santiago, Chile, and Rio de Janeiro and Curitiba, Brazil. Recently, Thaisa Way took us for a look at the yards and courtyards of Santiago.  Here, she explores the idea of "commoning the community" in a favela, Vidigal in Rio de Janiero, Brazil.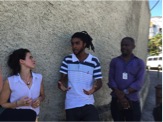 On the same day that Maiko, Kate, Jose, and I headed to the favela community of Vidigal, I read about the competition in London to find spaces that could be "commoned" as in making them collective social spaces in the urban fabric. This same idea is being envisioned within the favela of Vidigal as residents look to create collective action to create shared spaces in their urban landscape. It is noteworthy that the city of Rio and many in Brazil speak of urbanizing the slums as a means to bring city services of water, electricity, sewage and transportation to the communities. Commoning is another form of urbanization- building on the potential of shared spaces to build community in dense and underserved neighborhoods.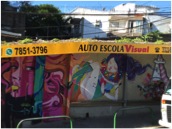 In Vidigal we met with architect Guto Grasien, who had grown up in the community and returned to live and to design for public good. With him was Maria (a dancer and choreographer) and Sebastian (VP for the Vidigal Community) as well as an artist and a film maker, all residents of the community. They showed us a small model roof garden that shaded a bus stop for residents. On the roof was a mixture of hay and soil that was used to grow medicinal and healing plants. The only irrigation is rain water. The roof garden, an idea that Guto initiated, was planned and planted with participants from the local public schools- 25 elementary students under the leadership of a few community members including Grassa, a healing/ medicine woman in the community. The plants are harvested by Grassa, who has with a few other women opened a small souvenir shop for all the foreigners touring the favela, and a small café upstairs that serves green juice – a healthy mixture of wheat grass, cabbage, celery, apples, and other greens. The idea is to introduce a healthy drink, easy to enjoy, as a means of introducing health and nutrition as a topic of discussion. Further the gardens introduce the idea of city nature as a beneficial and productive part of the urban fabric. Thus the roof garden, the store, the café, the garden all are a form of commoning.

The community, like most favelas in Rio, is on a very steep hillside- the flat lands by the bay and ocean are generally filled with more expensive housing, from middle to upper class housing and commercial strips- the beach itself a common landscape, open and used by the full public. Back to the favela- as they are on steep hillsides, while roads for cars, motorcycles, and infrastructure are useful, stairways are the primary shared circulation infrastructure- they wind between houses, roads, and views- yes precarious but also pragmatic, serving as critical contributors to the public realm.

Also there we were welcomed into a remarkable garden that was once a city site deemed to become an ecological park. However, the city abandoned the project and neighbors started to use it as a garbage dump. Other community members imagined doing the garden on their own and started to clean the area for garden beds. They creatively found materials to use including car and bike tires that were dug into the hillside to hold the soil in place and to provide planting beds. Plants are gathered from the nearby forests and hillsides and the place is a bit of paradise within the urban landscape. It was a respite, it was a place of hope and production- but it was even more a place where urban nature was expressed creatively, inspirationally, and poetically.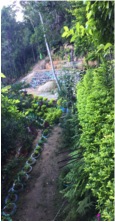 While many focus on the ways in which the city and state appear to have abandoned the poor in Brazil – and this is true when one considers the availability of clean water, sewage treatment, and many other basic services – what we saw and heard in Vidigal was also the resilience of communities to find ways to build a robust public realm. It was a good learning experience for us, as it is so much easier to just bemoan the irresponsible actions of government and leaders.