Several of our MSRE students recently visited San Francisco for the ULI Fall Meeting.  David Leon shares his thoughts on the changes and challenges in that city, and how they compare to the ones we are facing here in Seattle. Thanks, David!
A former colleague once said to me Seattle reminded him of San Francisco 15 years ago.  I find that there are many parallels: both cities are land-constrained, surrounded by beautiful scenery, tech-industry hubs, and are facing affordability and livability issues in housing as their growth cycles compound.
At the ULI Annual Conference earlier this month in San Francisco, both walking around and in conference sessions, I noticed many changes that may be coming to Seattle.  San Francisco's waterfront highway has already come down, and the industrial waterfront has been transformed into tourist, office, and retail space.  Oakland, the blue-collar city across the bay, is now the regional shipping and industrial port.  Seattle's viaduct will be gone soon, and a similar transformation could happen here, with the seaports of Seattle and Tacoma recently combining.
San Francisco has long been facing the challenge of homelessness and housing affordability.  I remember when I was in college in the late 1990's walking along sections of Market Street where every alcove and doorway was occupied by somebody in their sleeping bag.  This time, I saw only a few people sleeping on the street.  Maybe they just moved to the park, but I also heard conference presenters talking about building micro-apartments downtown for formerly homeless people.  One could hope that Seattle would adopt a similar solution in addition to, or rather than, supporting the open-air encampments that currently exist in various locations around town.
Micro units also seemed to be the path to greater affordability, with developer Patrick Kennedy of Panoramic Interests presenting on how both profitability and affordability improve when multi-family units are built smaller, with parking eliminated from buildings.  Professor Carol Galante of U.C. Berkeley's Terner Center for Housing Innnovation presented on how trends show more and more people moving into urban centers, with rental units as the fastest growing segment of the housing market.  This despite 70% of U.S. housing stock being single-family and zoned as such.  Her prediction was for greater density in urban centers, and assisted by government intervention like reducing the mortgage interest deduction, or not taxing accessory dwelling units.
The most impressive project presented at the conference was the Transbay Transit Center.  This is a massive effort to build out a multi-modal downtown transit center connecting the cities around the Bay Area via rapid transit, as well as the train to Los Angeles.  The transit center features a shopping mall as well as a large park on top of the roof.  The Transbay Joint Powers Authority was able to build with money from selling off surrounding land to developers, who are building what will be some of the largest office and multi-family buildings in the city, effectively extending the city's skyline to the south of the Oakland Bay Bridge.  The tallest of these structures, the Salesforce building, would be the tallest in the city.
Another noteworthy presentation included a case study of Twitter's new headquarters at Market Square, a renovated space that transformed an older building to suit the needs of the new tech economy.  And following up on that concept, several presenters invited us to imagine the future of a city that does not depend on workers going to any particular place to get work done, where nobody needs to own cars because cars would drive themselves and be available on demand, and where goods are bought and sold online in a global marketplace that need less retail spaces and more warehouses.
It was a very inspiring conference and a great trip.  How these trends and ideas might come to Seattle will of course be a matter of current trends in affordability, as well as overall market forces.  But ultimately any local transitions will be a test of whether there is sufficient popular will to move forward toward a denser, more transit-and-tech oriented city.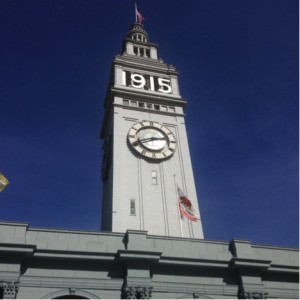 The Ferry Building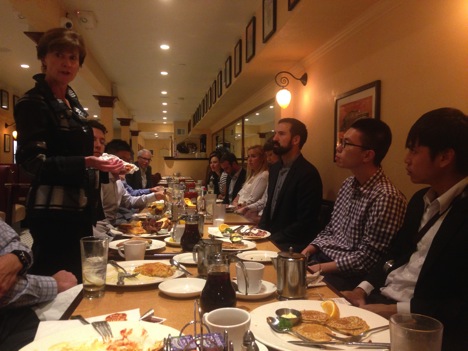 Breakfast with Runstad Center board members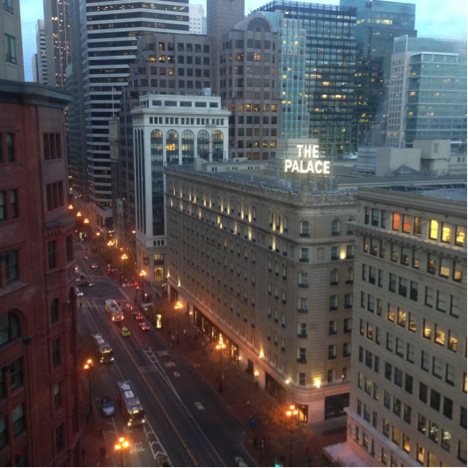 View of Market Street and the palace hotel from NW ULI reception at One Kearny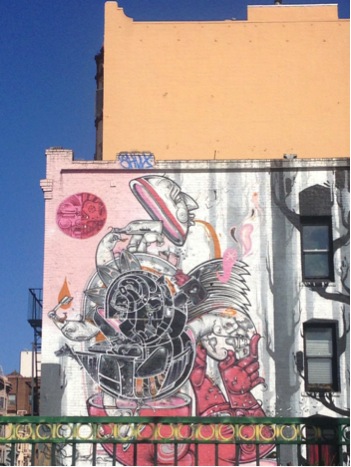 Mural near Civic Center
TransAmerica Building