We continue our series of blog posts from our Runstad Center Affiliate Fellows class of 2015, who recently traveled to Santiago, Chile, and Rio de Janeiro and Curitiba, Brazil.  Here, Maiko Winkler-Chin shares her love of good food – and what our dining spots say about the cities we live in, especially to those who visit. 
People who know me would expect me to bring up food, as it's a very important thing for me!  During our travels, our days fell into a predictable pattern – learning, walking, eating, repeat. We are not big foodies, but we often discussed how and why – besides good food – we enjoyed eating at different places.
Here's my rundown of memorable spots (and some tasty treats).
In Chile, our preference was eating outdoors – and we did it all the time, for almost every meal. It was a great way to reflect and absorb what we were learning, as well as try some local food and drink and watch the locals navigate their own city. Memorable spots….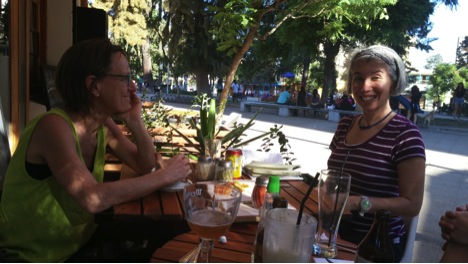 Outside a small cafe next to a very well-used park near Santiago's University District. We sat there drinking beers and snacking on pizza, reflecting on lessons of the day, comparing park layout and users in what we were seeing and what we normally see back in Seattle.
Enticed to explore a cobblestone alley that ran off a major boulevard (the primary east/west axis in Santiago), we found restaurants spilling into public space. Clarification – it was like an alley, if our alleys had sidewalks on both sides and trees. Whatever it's called, it was really nice! While we were eating Italian food and ceviche, we heard a Maori haka – live entertainment! – and later learned that there was an exhibit at a nearby cultural center.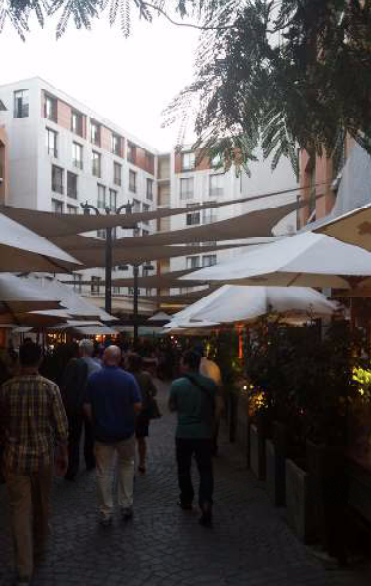 A courtyard tucked in between buildings – we walked thru a historic building to enter this place full of different food establishments. I could call it a food court, but it felt way nicer and more fun that that. We had lunch, and looked around at the variety of buildings – some historic, some modern, all one or two stories – surrounding this square, with the upper floors of the nearby University of Chile, its red roof peaking into view. (at the intersection of Calle Pio Nono and Calle Bellevista)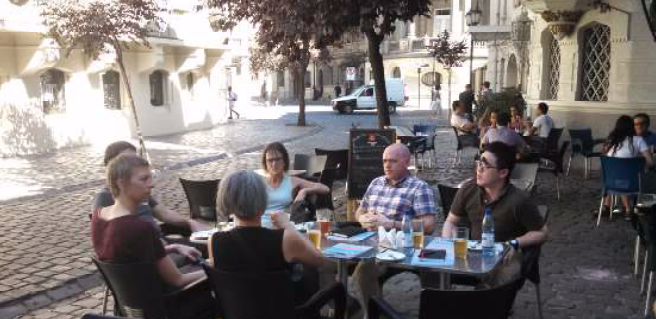 My favorite place of all – Cafe Mosqueto – more for its coffee than its design, outside along yet another alley-like passage – clearly they know how to use their alleys in Chile! The building was set back from the street, and the patio area in front was separated from the sidewalk by concrete planters; I don't remember any covering in the front patio area, but I do remember enjoying the best cafe latte and good people watching. The street out front was "for residents only", a quiet narrow alley that had a different surface than the main streets in the area. In fact, we snacked a few times on these narrow streets with different surfaces, and they were all quite lovely.
We were in Santiago in the fall, it was still very warm, and I wonder if they eat outside as often in the winter. We all wondered – could we have more outdoor seating in Seattle? Could we adjust to eating outside in colder, rainier weather? Would we? It was such a nice addition to the street life, I was in a real city. It did have its downsides – there was that seagull incident – but overall, I would take that chance again for that experience. And I am now looking for Chilean Carmenere – look beyond the Malbec, this variety is delicious!
In Brazil, there didn't seem to be as many outdoor places – there was this place we went to twice because it was good and close by to where we were staying. It was pouring rain, but we ate under the awning, which had a thick hanging clear liner to keep the rain out. The place was packed, as the neighborhood was out watching their Botafogo neighborhood football team playing their adjacent neighborhood's team on TV, drinking choppe of beer and eating roast pig. It also rained when we ate at a lovely Italian restaurant on Copacabana beach. There was an awning that I could tuck up under, so dinner saved. (La Fiorentina, Leme)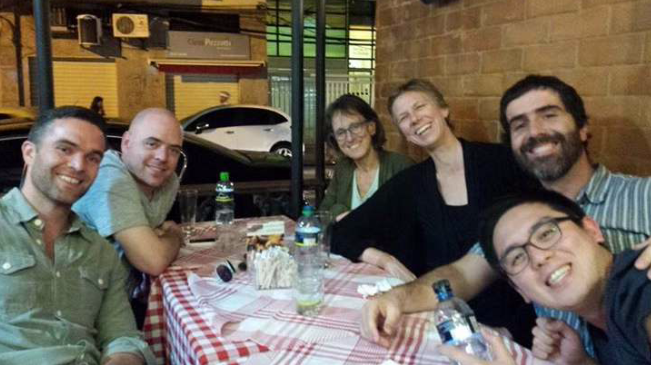 Kilo buffets were common. Grab a plate and pick up whatever you like – salads, roast meat, pasta entrees, rice and beans – and you pay by the fraction of the kilo. This should not be confused with the all-you-can-eat-meat places, more correctly called a churrascaria, where you often pay a flat fee. Good idea, but not one we could do too often. Nothing really notable here from a built environment sense, but it was definitely a place where people came together.
The place that led us to some long conversation – perhaps because it was raining so hard that we didn't want to leave – was tucked behind an apartment entry and tattoo shop, with an entrance off something like an alley. BarBaran Ucrania is – as you can guess – a bar serving the sizable Ukrainian community in Curitiba, and the only place open at 4 pm on a rainy Saturday afternoon. Adults said hello to those they knew, grabbed drinks and snacks (fried balls of Portuguese salt cod or mashed potato/ham-like substance), and watched the football games being broadcast. Kids were there – some came in (with no adult) for ice cream treats, some sat with their parents at the bar, and some hung out in the corner with their teen friends. Great community vibe, and we reflected on how different US rules are about alcohol.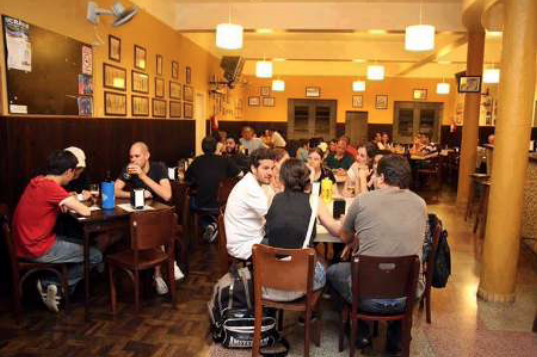 Wondering what ideas Seattle's eating spots say about us as a city to our visitors…